Essential oils are becoming more and more popular for treating anxiety, depression, colds, aches and pains and many, many more issues/symptoms you may have.  There are a lot of application methods that can be used when applying essential oils.  In order to get the maximum benefit from essential oils, you should become familiar with reflexology.
Reflexology is the process of massaging your feet and hands to promote healing, relieve paid and reduce stress.  When you combine reflexology with essential oils, you will massage your way to a better life.
Below you will find detail of the various points on your feet that are directly linked to other parts of your body.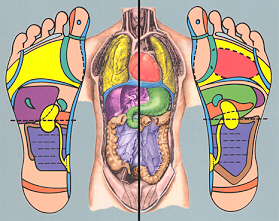 Using this chart, find the area of your foot in which you need to apply the essential oil.  Place a few drops of essential oil into your hand, rub your palms together and then massage the essential oil onto your foot.
Some of the more common essential oils are:
Peppermint Essential Oil – natural pain reliever
Cypress Essential Oil- circulation
Chamomile Essential Oil- relaxing, calming
Lavender Essential Oil – calming
Tea Tree Essential Oil – anti-bacterial, purifying
I hope that you will find some benefit in adding reflexology into your life and your feet.  Let me know how it's working for you, and if you have any suggestions that will help me and my readers, please share them below.  I look forward to hearing from you.