On to the next wonderful must have essential oil…Eucalyptus.
Another one of my favorites, eucalyptus has many fabulous benefits for numerous applications.
Eucalyptus globus – Steam distilled from the leaves of the tree.  Eucalyptus has a woodsy, medicinal and earthy aroma.  Anti-inflammatory, antiseptic and antibacterial.
Eucalyptus has been used as a stimulant to create a cooling and refreshing effect.  It can also help minimize mental exhaustion and mental sluggishness.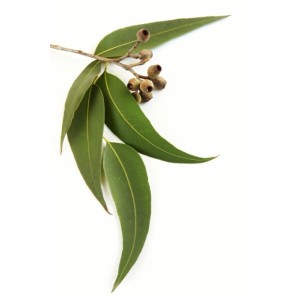 In addition Eucalyptus can help you with all of the following:
Arthritis, Poor Circulation, Coughing, Fever, Cold Sores, Bronchitis, Colds, Sinitus, Respiratory Problems, Muscle Aches and Pains, Mental Exhaustion, Stress, Skin Infections, Airfreshener, Docongestant, Hayfever
I like to use Eucalyptus for coughs and colds.  It is great to alleviate a runny nose and in doing so, helps you get a restful night's sleep.  Many also like to add Eucalyptus to their saunas.  The vapors from Eucalyptus are just as effective as topcial treatments.
All of these amazing traits are the reason why Eucalyptus is the #3 Must Have Essential Oil.  It would make a great addition to your aromatherapy kit and your home.  Try it out, you will not be disappointed!